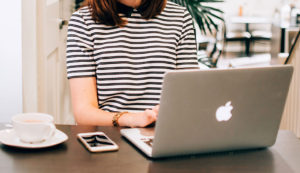 Using the Internet for information can be a daunting and overwhelming task for anyone. Searching for medical resources can be even worse: a rabbit's warren of twists and turns that usually drops you in the middle of frightening stories that are neither helpful nor supportive, clear nor factual. When you are diagnosed with a food allergy, whether you're newly diagnosed or have a loved one who is, it feels extra precarious — like you're always one click away from the worst-case scenarios, bogus health schemes or counterfeit food allergy cures.
I'm here to help.
The best, most reliable source when it comes to information about your personal medical diagnosis is your personal board-certified allergist. They will know you, your family, your medical history and they will be able to best serve you and your health. There are two great resources to find board certified allergists near you: American Academy of Allergy, Asthma & Immunology and American College of Allergy, Asthma & Immunology. They also have reliable medical information about atopic disease (e.g. food allergies).
However, you may still have questions, or want to learn more about your disease or want to join a safe online forum to talk with other parents, for example. There are two main food allergy patient resources groups you should know about: Food Allergy Research and Education and Kids with Food Allergies.
In their original incarnations, these food allergy national non-profit organizations were started by food allergy parents, just like many of you, who were seeking reliable information and coming up with very little. Today, these two national non-profits for food allergy families are powerhouses of free resources like:
free online webinars with doctors and other health nationally recognized health professionals, like me! – Dining Out with Food Allergies (Video & Resources);
free downloadables to post in your home, for babysitters, grandparents and schools;
allergen-friendly recipes, online chat rooms and off-line support groups, and
paid conferences for adults, kids and teens, all nationally here in the United States.
Below is my short list for medical information and patient assistance as well as some free documents that will help you whether you have a child in school and need assistance, you want a reliable anaphylaxis action plan to fill out with your doctor, you need to understand the food allergen labeling labels, or you want to read more about food allergies generally.
Reliable Medical Resources
American Academy of Allergy, Asthma & Immunology (AAAAI)
American College of Allergy, Asthma & Immunology (ACAAI)
Centers for Disease Control and Prevention (CDC)
Food and Drug Administration (FDA)
NIH: National Institute of Allergy and Infectious Diseases(NIH/NIAID) United States
Reliable Patient Perspective Resources
Allergicgirl.com (AGR)
Asthma and Allergy Foundation of America (AAFA)
Food Allergy Research & Education (FARE)
Kids with Food Allergies (KFA)
Free Downloadable Documents
Allergicgirl.com – FAQ to take to allergist's office
FARE – Anaphylaxis Actions Plan (common symptoms)
CDC – Guidelines for schools
FARE – Guidelines by state for school
FDA – FALCPA Laws
NIH Food Allergy Guidelines
About the author
Sloane Miller is a national expert on food allergy management, author of "Allergic Girl: Adventures in Living Well with Food Allergies" (Wiley 2011), and founder & president of Allergic Girl Resources, Inc. Sloane is a regular contributor to the perfectlyfree® blog, aiming to drive awareness and provide resources that empower individuals with food allergies & their families to live joyously.
Tags: Food Allergy, Sloane Miller
Posted in Contributor, Food Allergy